Wheelchair Accessible Taxi for New York City
November 02, 2011 | By Karen Poch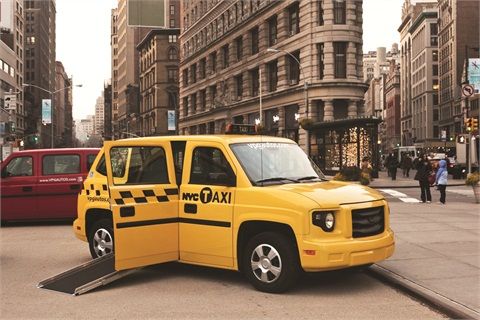 Photo credit: http://www.metro-magazine.com
On October 21, 2011, the MV-1 wheelchair accessible taxi was officially approved for the streets of New York. While taxi drivers now have the option to ride in the MV-1, most disability advocates consider this only a small victory. Currently, only 2% of the 13,237 cabs in New York have been retrofitted to be wheelchair accessible. Unfortunately, this does not come as a surprise considering the Bloomberg administration's recent assertion that wheelchair accessible cabs are inefficient, as people in wheelchairs find it difficult to hail cabs while able-bodied people find it uncomfortable to ride in vehicles with such poor suspension.
The newly approved vehicle features a wide side door, 56 inches by 36 inches, equipped with either a manual or powered ramp for easy entry and exit. Its ramp, conveniently stored inside the floor of the cab, allows seating room for one wheelchair and five additional riders. Alas, the MV-1 will soon be obsolete. The imminent changeover to the non-accessible Taxi of Tomorrow, designed by Nissan, begins in 2013. By 2018, these cabs will be the only ones sanctioned for use on New York City roads. Wheelchair users will be stranded once again.
Despite hesitation from Bloomberg and the Taxi and Limousine Commission to comply with ADA standards, both are making attempts to provide other options to wheelchair users. In addition to the approval of the MV-1, NYC residents will soon be able to call 3-1-1 for an accessible cab. This makes slight improvements on the presently weak Access-a-Ride program, but it won't be instituted until late March. In the meantime, too many are left waiting on the curb.