Amramp Donates Free Access Ramp
February 25, 2012 | By Nora Boydston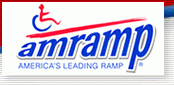 Unable to make it down the stairs outside her home, Lidia Marcella wrote a $1,750 check to a local accessibility company for an access ramp. All Marcella wanted was the ability to go outside to socialize and engage with her community. But months later, Marcella was still unable to leave her home and the contractors had no intention to install the ramp. Worse yet, when Marcella sought a refund for the project, the company's check bounced.
After hearing a report on Fox5 News, Scott Fazzina, General Manager at Amramp, felt compelled to take action. Within weeks, Amramp began construction on a ramp outside Ms. Marcella's home. Thanks to donated materials and labor from Amramp, Lidia Marcella was able to step outside for the first time in months.
Founded in 1998, Amramp is now the leading national provider of steel wheelchair ramps and portable roll-in wheelchair showers. While best known for their modular ramps, local divisions have been branching out their services to engage and empower their communities through a variety of accessibility options.
Amramp has done a lot of great work to provide full accessibility in the Northern New Jersey area:
Amramp NNJ installation teams spent the days leading up to Election Day 2011 constructing temporary ADA-compliant ramps at polling sites across northern New Jersey.

At the Leukemia & Lymphoma Society's Light the Night Walk in Verona Park, Amramp made it possible for 2,500 people to participate through a temporary ramp construction over the bridge on route.

Amramp's new "Safety First" initiative equips ramps with a non-skid surface, ensuring wheelchair users safety throughout the winter months of heavy precipitation.
You can find more about Amramp in their quarterly newsletters here.