Cornado Bermudez Receives His Lift!
December 15, 2015 | By Luke Lesniowski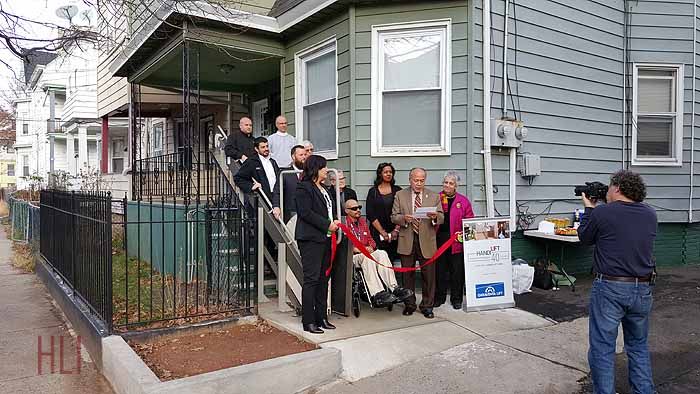 In a recent ribbon cutting ceremony that included Mayor Torres of Paterson, New Jersey, Handi-Lift turned over a new lift it donated to Conrado Bermudez, a young man from Paterson.
Bermudez must leave his home three times a week to receive life-saving dialysis treatments. Because he uses a wheelchair, and his home is accessed by a stairway that is impossible to use in a wheelchair, he relied on friends and transport workers to carry him up and down the stairs. Lacking the funds to alter his home, he reached out to Giants of Generosity, a 501C3 charitable organization based in Cresskill, NJ, for assistance.
D. Jane Albanese, founder and president of the non-profit organization, contacted Handi-Lift Inc., who donated the lift and installation, with the help from their key supplier Garaventa Lifts. She then turned to Chris Caputo and G&L and Sons to do the electrical installation at no charge. Giants of Generosity paid for the new slab and masonry work required for the installation of the lift with funds donated for this purpose. The mason discounted his price for the project to help make this dream a reality for Bermudez.

Thanks to the efforts of Giants of Generosity and the support of the vendors and contractors, Bermudez is now able to enter and leave his home on his own. His freedom of movement and the ability to meet the dialysis transport vehicle are life-changing.
"Thank you so much for this! You've really made a difference in my life. I can now take some classes I've been wanted to take as well," said Bermudez.
This was the first time Handi-Lift Inc. partnered with Giants of Generosity, and is the most recent case taken on by Giants of Generosity, an organization that assists area residents who face critical, life-altering situations and who have nowhere else to turn. The organization helps local residents begin to rebuild their lives by offering them connections to valuable resources, emergency-relief funding, and other services. The organization has helped more than 500 families and individuals since its founding in 2007. For more information, visit http://www.giantsofgenerosity.org.