Handi-Lift's Hamilton Grange Wins 2012 Project of the Year!
February 25, 2012 | By Nora Boydston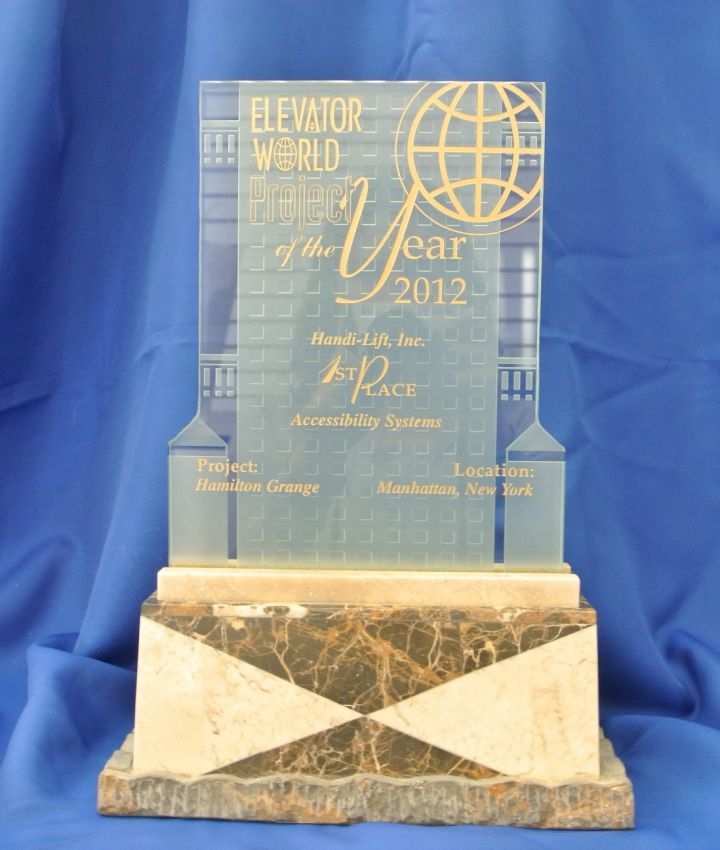 Handi-Lift has once again won the Elevator World Project of the Year Award for Accessibility Systems!
The winning project is the unique Enclosed Vertical Platform Lift at the Hamilton Grange National Memorial in upper Manhattan.
This historic house was built by Alexander Hamilton in 1802 and it was relocated to Saint Nicholas Park at in 2008. This in itself was a feat as the house was lifted twenty feet from the ground and transported down Convent Avenue to its new foundation at 414 West 141st Street.
The accessibility challenge was to make the main floor accessible while keeping the lift out of site when not in use. This was achieved with a specially designed guide system to support the car and a telescoping tube system that lifts a section of the wood porch floor as the lift ascends to take on passengers. When the lift descends below the porch, the floor returns to its original position, making the lift effectively disappear. The original look of this historic landmark house is maintained while keeping up with modern accessibility requirements.
To learn more about the Hamilton Grange National Memorial or to plan a visit, see the National Park Service website.
Handi-Lift is proud to have won the Accessibility Systems Project of the Year Award six times in the past eight years. Last year the winning project was the Subway Lift! Handi-Lift remains committed to providing the same Accessibility with Dignity for all our customers. It certainly seems to be a winning combination.