Redesigned Accessibility Symbol Coming to New York
May 30, 2013 | By Priscilla Fujimura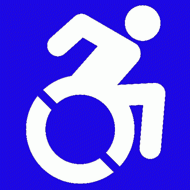 The International Symbol of Access is a familiar icon. It's emblazoned on parking spaces and bathroom doors, signs for elevators and ramps. We see it and understand what it means, but do we understand how the symbol has affected our society's attitude toward those who use the designated parking spaces and ramps?
The Accessible Icon Project was founded by artist Sarah Hendren and Brian Glenney, a philosophy professor at Gordon College, to create a new symbol that would help address these subtle influences on our attitudes. Hendren designed a new Accessibility Icon to replace the stiff, static standard. Instead of symbolizing a passive person in need of assistance from ambulatory neighbors, the new icon represents an active person. The redesign highlights the autonomy of the individual and his or her ability to participate in a community that removes barriers to access.
The symbol has been embraced by Gordon College in Boston, the city of Malden and other businesses and public institutions in Massachusetts. The Chronicle of Higher Education reports that Victor Calise, commissioner of the New York Mayor's Office for People With Disabilities, will be implementing a plan to use the new Accessible Icon all over New York City this summer. The Handi-Lift team will be on the lookout for new examples of the icon in use in New York City.
While designing a new symbol doesn't physically remove barriers to access, it does influence the perceptions of those who see it. This new icon can help refocus social biases, framing wheelchair users and others with disabilities as full participants in public life who have a right to equal access to public spaces.