Sales & Engineering Update
July 09, 2015 | By Luke Lesniowski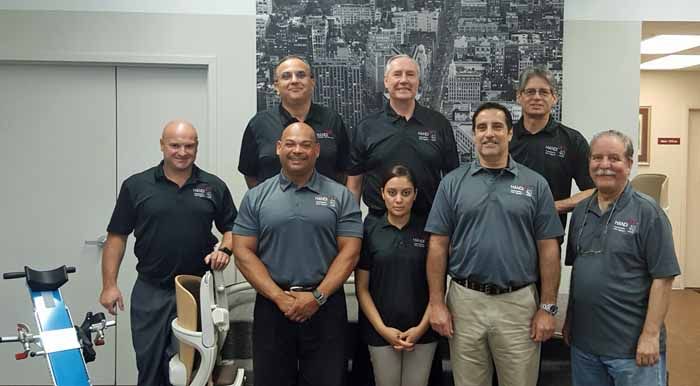 The Handi-Lift sales team has gone thru some changes in the last few months. We have been busy growing our team while finding the best solutions for your accessibility challenges.
The newest addition to the Handi-Lift Sales & Engineering team is Nathan Correa who joins the team as our Engineer/drafter. He grew up Union City New Jersey where he went to Emerson High School. He has been married for the past 5 years to Jeaneth and has 5 great kids and Bubba their pet dog. He has been in the elevator business for the past 9 years learning all he can along the way. Nathan consider himself an avid bodybuilder and also is a NPC judge and enjoys working out at 4:30 in the morning. He is very grateful for the opportunity that was given to him and is happy to work with such a great family run company. Handi-Lift welcomed Nathan in April and look forward to having him around for the long haul.
Our other new face is Paul Corcoran. He is our newest sales engineer on board since April. He is a single father of a daughter Nina. He grew up in West Caldwell and graduated from James Caldwell H.S. He worked and went to college graduating from Upsala U. with a bachelors degree in business Administration.Then he went to work in the Hotel industry working for Marriott and Hilton Hotels in Facility Management. Paul decided to change careers and get into sales utilizing his technical knowledge. He sold Energy accounts and Heating / Air Conditioning Systems for a NNJ Energy Company. Paul returned to construction working for The Blue Book of Building and Construction selling advertising. He started his own Advertising company and ran it for 3 Yrs. selling it recently. Paul has learned much and continues to learn products and this industry. He is motorsports fan and enjoy boating, motorcycling, and classic cars. He resides in Union NJ currently and has lived there for 16 years.
Meet the team: (from left to right, top to bottom)
Bob Grigorov: Sales Engineer
Dennis Gaynor: Sales Associate Residential
Doug Boydston: Engineering & Custom Projects
Luke Lesniowski: Sales Manager
Nathan Correa: Engineering & Drafting
Angelica Urena: Inside Sales Coordinator
Paul Corcoran: Sales Engineer
Dean Colucci: Senior Sales Engineer
Together our sales team has over 75 years of experience in helping clients with their accessibility challenges. The sales team can be reached 1-800-432-LIFT (5438) or Sales@handi-lift.com.