Sue Austin: Creating Beautiful Images with Her Wheelchair
February 19, 2013 | By Priscilla Fujimura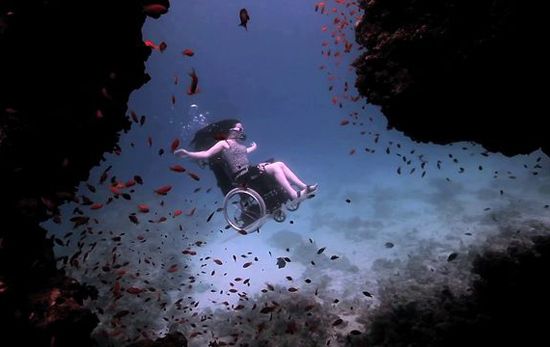 Sue Austin, an artist based in the UK, finds incredible freedom in her powerchair. But she also discovered that her wheelchair did not inspire others in the same way. She felt exhilarated, but others saw only the limitations of her wheelchair. Austin gave a wonderful TEDtalk about the perceptions of wheelchairs that she encountered, and the art she made with her chair.
Austin has created beautiful loops on paper and she painted lines throughout the city of Plymouth, all with her chair's wheels. Her following project was even more ambitious - deep sea diving in her chair. The images of her work speak eloquently enough for themselves.
And you can see videos of her deep sea diving.