Vote for your Favorite ESPY Athlete!
July 01, 2011 | By Karen Poch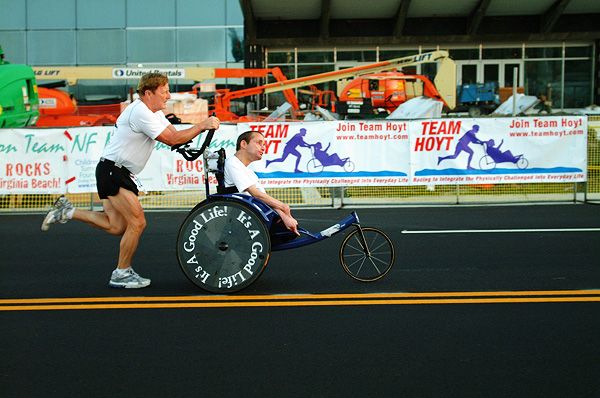 Photo credit: teamhoyt.com
We've all teared up watching Team Hoyt win their awe-inspiring father-son duathlons, marathons, triathlons, and even Iron Man Competitions. But now Rick & Dick Hoyt aren't the only ones representing athletes with disabilities.
On July 13th ESPN will be celebrating 2 premier athletes with disabilities in their ESPY Awards!
Check out some of our favorite nominees:
Born with spina bifida, Tatyana McFadden has come a long way from the Russian Orphanage where she spent the first few years of her life. She is now a world-class wheelchair racer and a six-time Paralympic champion! Check out her story here.
After being hit by a roadside bomb, Iraq War Veteran, Melissa Stockwell, was medically retired from the Army as both a purple heart recipient and an above the knee amputee. Within months of returning stateside, Melissa began her new career as a prosthetist, motivational speaker, and World Champion ParaTriathlete. She is continually reaching out to anyone who needs a bit of optimism in their lives on her blog.
Since 1973, when he became one of the first children to be mainstreamed in California public schools, Stephen Wampler, has been advocating for people with disabilities. He and his wife, Elizabeth, have spent the last 10 years running outdoor wilderness camps for children in wheelchairs or with other physical disabilities. All in an effort to raise awareness for their cause, Stephen became the first man with cerebral palsy to conquer the 3,000 foot, El Capitan in Yosemite National Park on September 12, 2010. Support Stephen and his cause through the Wampler Foundation.
You have 9 days left to cast your vote and let the world know how athletes with disabilities have overcome. Visit http://espn.go.com/espys/#!/voting/ to support your favorites.